Mr Anthony T. Ngcezula
Chief Executive Officer
Anthony T. Ngcezula is the Chief Executive Officer of the JDA
Mr. Ngcezula is a Fullbright scholar with an MBA and B.Com from Nelson Mandela University, an MSC (Mathematics) from Louisiana State University, USA and a BSc (Mathematical Studies) from University of London, UK. He also holds postgraduate qualifications in Municipal Executive Finance Management and Public Finance & Fiscal Management in Local Government, both from the Wits School of Governance. Ngcezula's expertise lie in Project Management, Corporate Governance, Banking, Corporate Services and Social Housing.
Before joining the JDA, Ngcezula was Acting Group Executive Director for Corporate and Shared Services at the City of Johannesburg; Acting Executive Director for City of Johannesburg Housing Department and CEO of the Johannesburg Social Housing Company (JOSHCO).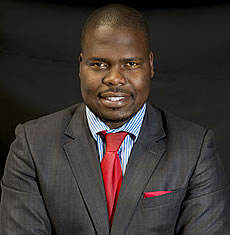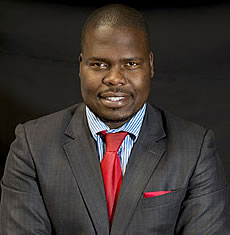 Mr Rodney Shirinda
Company Secretary
Rodney Shirinda is Company Secretary for the JDA
Rodney Shirinda is the company secretary. His role is to ensure a smooth interface between the agency's deliverables and the JDA Board's mandate. He also eases the chief executive's work load by providing legal advice where needed.
He has an LLB degree from the University of Pretoria and is completing his LLM Masters in Corporate Law. He is an admitted attorney of the High Court and worked for Werksmans Attorneys in Sandton from 2005 until 2007.
Before joining the JDA, he held positions at Global Forests Products and Safcol, and was a non-executive director at Komatiland Forests, Temba Timbers, Abacus, Mistlands, Kamhlabane Forestries, Singisi Forests Products, and Mountains to Oceans.
Ms Zelda Tshabalala
Chief Audit Executive
Zelda Tshabalala is the Chief Audit Executive at the JDA
Zelda Tshabalala is the Chief Audit Executive for JDA, her role is to ensure that the internal audit function of the JDA provides an independent, objective assurance and consulting services to add value and improve the organisations operations by evaluating the effectiveness of risk management, control and governance processes. As a Chief Audit Executive her responsibility amongst others involves providing strategic leadership of the Internal used unit, reviewing and improving risk management process, strategies to embed risk management in an organization, evaluating the internal control environment and corporate governance structures, strategy implementation, organizational performance monitoring, business processes improvement for operational effectiveness and conducting probity audits on competitive bidding process in line with procurement legislation and regulations.
Mrs Tshabalala has occupied various positions in both the private and public sector. Her expertise is in the field of Internal Audit, Risk and Compliance Management, Corporate Governance, Finance, Performance Evaluation and Monitoring; and Strategic Leadership. She holds various qualifications and certificates. Her formal qualifications include a Master of Business Administration degree (Gordon Institute of Business Science); a Post Graduate Diploma in Business Administration (Gordon Institute of Business Science); and a Bachelor of Commerce degree (University of Pretoria).
Ms Boledi Seopela
Executive Manager: Corporate Services
Boledi Seopela is the Executive Manager: Corporate Services at the JDA
Boledi is responsible for providing shared corporate support to all business units. She has extensive experience in people management, organisational design and capacity building. Prior to joining the JDA she was the Executive: Corporate Services at TEDA, Ms Seopela worked as the Head of Human Capital for Broadband Infraco (SOC), where she was in the first team that was appointed to establish the entity from inception to a fully operational organisation. She was with the entity for five (5) years and left footprints. She worked for City of Joburg where she was responsible for the entire human capital value chain and enhancing relations with labour and management. She started her career at National Prosecuting Authority (NPA) in 1999 as an HR Practitioner and then promoted to Business Partner (HR Consultant). Ms Seopela has an MBL (UNISA-SBL), BA Social Sciences (UNIN), Post Graduate Diploma in HRM (UJ), Management Development Programme (UNISA-SBL) and Advanced Programme in Organisational Design (UNISA)
Ms Sherylee Moonsamy
Chief Financial Officer
Sherylee Moonsamy is the Chief Financial Officer at the JDA
Sherylee is responsible for both the Finance and Supply Chain unit. She has over 12 years' experience in corporate finance which includes 9 years in the public sector. Sherylee started her career while serving articles as at an audit firm and joined the JDA in 2009 as an Accountant. In 2012 she was promoted to Finance Manager and obtained her Chartered Accountant accreditation during this time. She led an integrated process to improve JDA's financial, risk, procurement management and governance practices to shift the annual audit opinion from unqualified to clean. In 2016 she placed as the Acting CFO and in 2017 was officially appointed as the JDAs Chief Financial Officer. Sherylee has a Bcompt Honours degree and a Certificate in Financial Management for Municipal Executives (Wits Business School).
Dr Manqoba Soni
Executive Manager: Development Implementation
Dr Manqoba Soni is the Executive Manager: Development Implementation at the JDA
Dr Soni's experience by and large is in the construction sector where he has occupied various senior positions in both the private and the public sector. Dr Soni has worked for organizations the likes of Group Five, Total Facilities Management Company, Murray & Roberts, National Department of Public Works, Gauteng Department of Infrastructure Development and the City of Johannesburg in construction management, construction project management, facilities management, infrastructure development, property development, business administration and general management related positions.
Dr Soni holds a Doctor of Philosophy (PhD) in Construction Management and a Master of Science (MSc) in the Built Environment specializing in Project Management both from the Nelson Mandela University, a Master of Business Administration (MBA) from the University of South Africa, a Bachelor of Science (BSc) with Honours (Hons) in Construction Management from the University of the Free State, a Bachelor of Technology (BTech) in Construction Management from Tshwane University of Technology, a National Diploma in Building from Durban University of Technology as well as a certificate in Municipal Financial Management from the University of the Witwatersrand.
He is also registered as a Professional Construction Manager (Pr CM) and as a Professional Construction Project Manager (Pr CPM) with the South African Council for Project and Construction Management Professions (SACPCMP) here in South Africa, as a Chartered Construction Manager (FCIOB) with the Chartered Institute of Building (CIOB) and as a Chartered Project Management Surveyor (FRICS) with the Royal Institute of Chartered Surveyors (RICS) both in the United Kingdom (UK).
Executive Team Performance Contracts